Leave a Review
[2]
Leave Review
[2]
This nightly calendar shows estimated lodging rates only. Applicable fees, taxes, and discounts are not included. Enter your stay dates above for an exact quote. Prices and availability displayed on this website are subject to change without notice.
King
King
Queen
Twin
Twin
Twin
Twin
Twin
Twin
Queen Sleeper Sofa
Queen Sleeper Sofa
[4]
[5]
[6]
[7]
[8]
[9]
[10]
[11]
[12]
[13]
[14]
[15]
[16]
[17]
[18]
[19]
[20]
[21]
[22]
[23]
[24]
[25]
[26]
[27]
[28]
[29]
[30]
[31]
[32]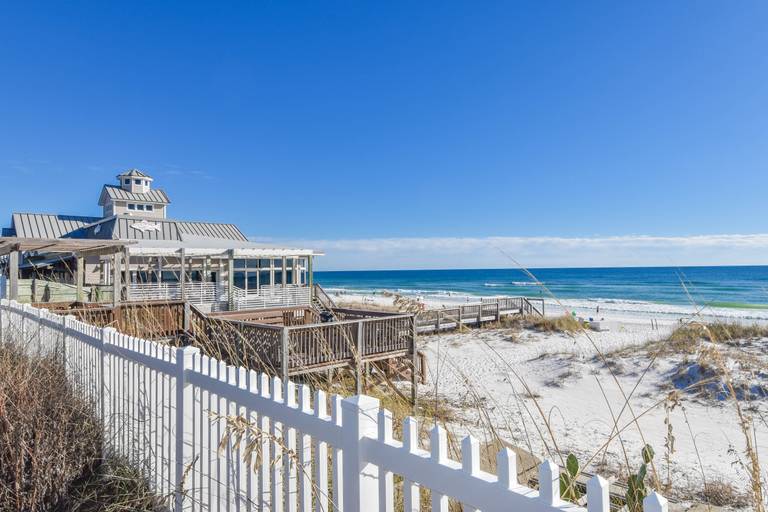 [33]
[34]
[35]
4 Bedrooms
3.5 Baths
A Wave From It All is a beautiful private vacation rental home located just off Scenic Highway 98 in Destin, Florida. This four-bedroom, 3.5- bath home has an open concept layout with a coastal farmhouse feel. A less than 5-minute walk takes you to the Tarpon beach access. A Wave From it All is located close to the best Destin- shopping, attractions, and restaurants.
This is a two-story house
BEDDING SUMMARY
Second floor master bedroom: King bed
Second floor master bedroom: Queen Sleeper Sofa
Second floor guest bedroom: Queen bed
Second floor guest bedroom: Two twin trundle bunkbeds
First floor guest bedroom: King bed
First Floor Living Area: Queen Sleeper Sofa
FIRST FLOOR
As you enter A Wave from It All you come into an open concept living, dining, and kitchen area. The first floor offers a guest bedroom, guest bathroom, and access to your private pool. Also located on the first floor is the laundry room equipped with a half bath.
SECOND FLOOR
The master bedroom is located on the second floor and contains a king bed, a queen sleeper sofa, and an adjoining master bathroom with a jetted tub, walk-in shower, and double vanity. The second floor also features a queen guest bedroom and a twin trundle bunkroom. The guest bedroom has a double access bathroom with a walk-in shower and 2 vanities. The second floor is completed with a wraparound balcony starting at the master and ending with a view of the backyard and private pool.
There is an additional cost of $75/day for pool heating. 24 hour notice is required to turn on the pool's heat.
This private Destin vacation rental home is professionally managed by Compass Resorts.
Amenities
Accessible
Early Checkin
Late Checkout
Location:
63 Tarpon St
A Wave From It All
32541
Destin
,
FL
United States
30° 22' 57.252" N, 86° 25' 0.6672" W
Florida US