Booking your dream Emerald Coast vacation is easier than ever. The development of third-party online travel agencies, such as Airbnb, Vrbo, and Booking.com, can give you hundreds or thousands of results - but, is there a cheaper, easier booking option? Yes! Booking directly through an on-site rental management company is not only a traditionally less expensive option - but a much smoother experience with more perks!
With the rise of large online booking websites, scam bookings have become easy to create with just a click of a button. Far too often vacationers don't realize they have been scammed until after they have arrived at the property and there is no record of their reservation. When guests book direct with Compass Resorts their reservation is put immediately into our management system. This secures your reservation for the property you booked and provides direct contact with our agents.
The best indicator of a potential scam is through payment methods. If you see a listing asking you to pay through any platform other than the one you are booking on, it's most likely a scam. Compass Resorts will never ask you to make a payment through any third-party processor such as Venmo, Zelle, CashApp, etc. Plus when you book direct, your personal information is protected.
Booking directly allows you to get the lowest rate on your vacation rental. Many online travel agencies add a booking or service fee (which is added to your final total) in addition to the nightly rate, cleaning fee, and taxes. These booking fees can range from 5% to 15% of the total, which quickly adds up to affect your vacation budget!
In addition, third-party companies generally do not offer specials, promotions, or discounts on reservations. When you book direct, you can take advantage of exclusive booking discounts, which means more money to spend at restaurants and on other fun activities!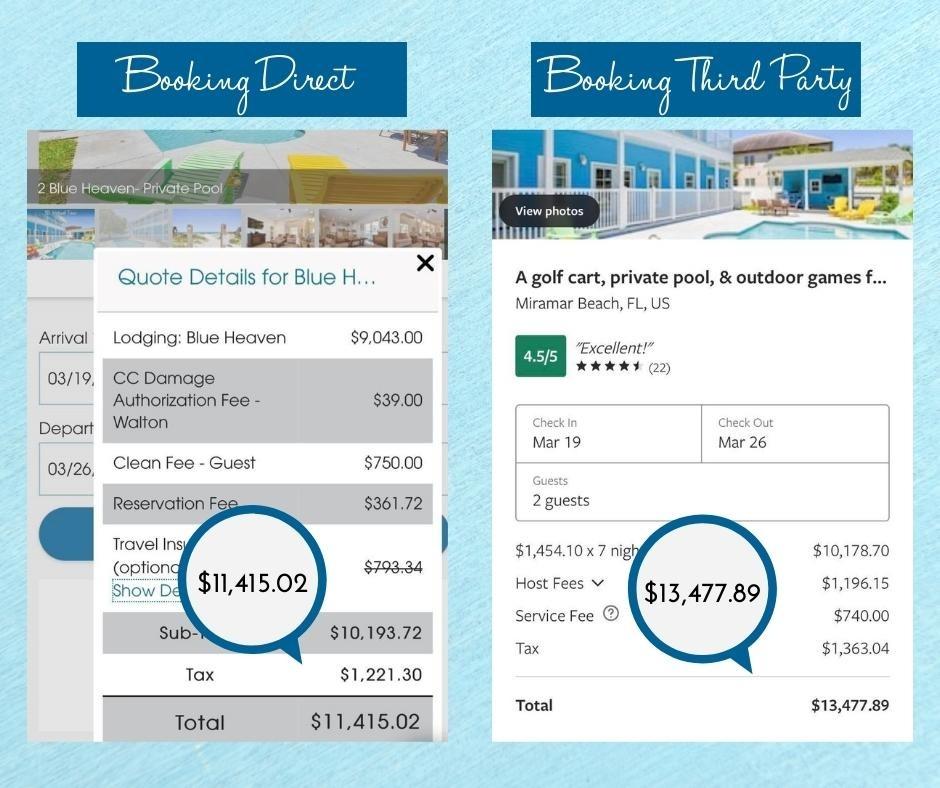 We Are a Professional Management Company
If you enjoy a hotel-like experience at vacation rentals (think spotless, tidy spaces), you should book your vacation rental directly. There are many properties online that are offered through owners themselves. However, owner-managed rentals are not necessarily held to the same consistent standards as rentals that are professionally managed. Similarly, we have a dedicated in-house operations team, so should any challenges arise during your stay - we are able to resolve them as quickly as possible (even after hours!) to get you back to your stress-free vacation.
We Offer Better Customer Service
Because many online booking sites are simply a directory of every vacation rental and hotel within your search radius, their customer service will more than likely have little to no specific knowledge about a property to answer any questions you may have. Our on-site Compass Resorts Reservation Agents have extensive knowledge of all of our vacation rentals and on-site amenities within each complex. They are ready to answer all questions and offer recommendations for the best property to fit your vacation dreams! You can reach us at (850) 269-1005
seven days per week.
We Are Locals With Local Knowledge
There are several benefits to renting directly from us - Compass Resorts. We are a 100% locally owned and opperated property management company, and not only can we help you get the best rates and find the best vacation rental for your stay, but we also have local insight and expertise of the Destin area.
Our team lives in the Destin area, and we are extremely passionate about our beautiful home. We love helping our Guests experience all that the Emerald Coast has to offer and make amazing beach vacation memories together. If you have any questions about the trip planning process (like directions, travel information, things to do, restaurant recommendations, etc.), we are eager to assist. We also highly recommend joining

Compass Club

, so you can be the first to know about upcoming promotions, and receive perks with our favorite local business partners!
Ready to book your Emerald Coast vacation rental? When you're ready to #BookDirect,

search our availability

or

contact us

!